The Incredible History of Mr. Carlos Morin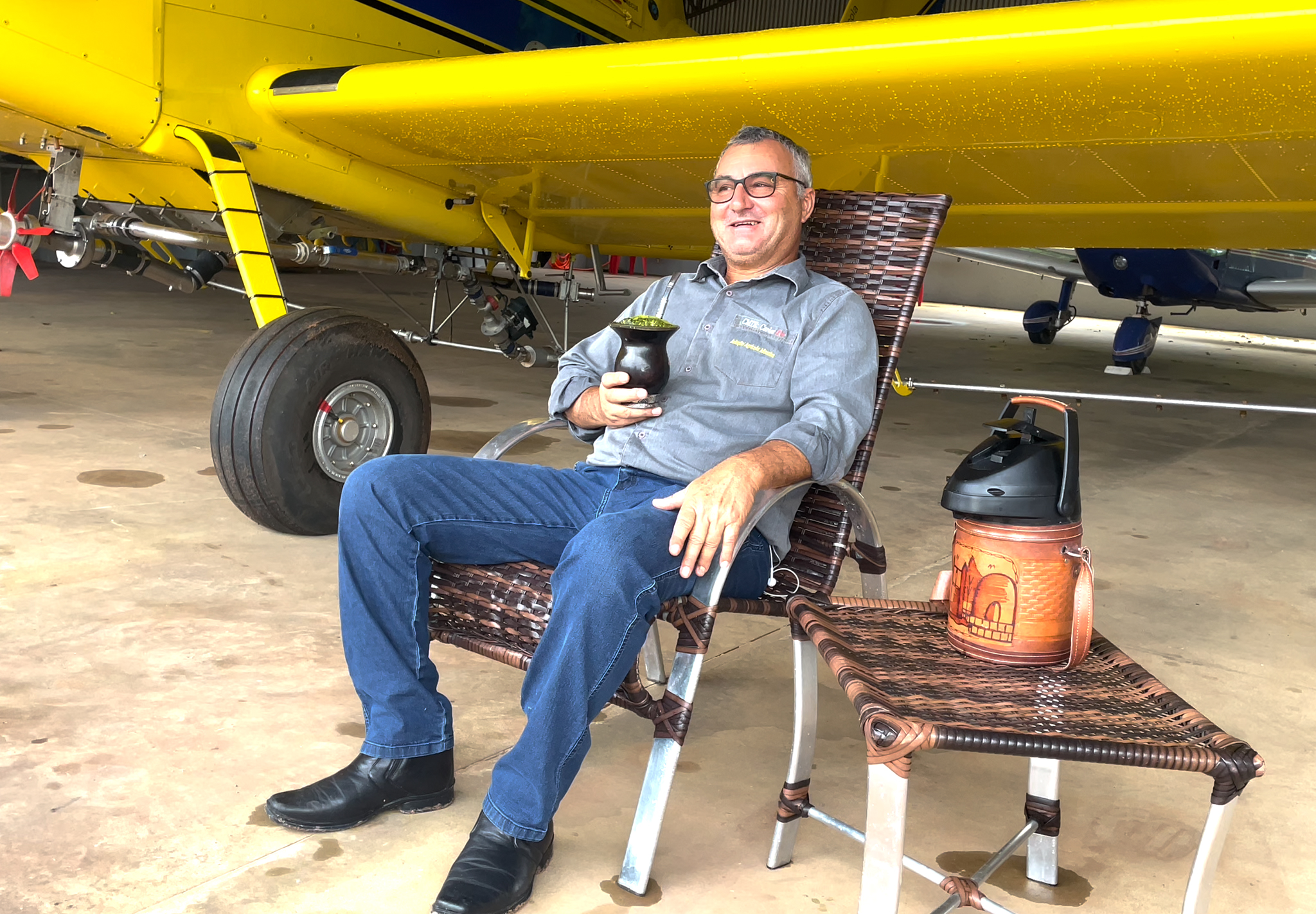 Mr. Carlos Alberto Morin drinking Chimarrão, a typical drink from the south of Brazil.
Carlos Morin had a very long journey before ag aviation found a way into his life. After leaving his hometown in the State of Paraná when he was only 12 years old, he worked more jobs than he could count before he learned how to be a pilot. He worked as a waiter for a couple of years, after that he moved to Mato Grosso to work in a soy farm, and that's when he started working with livestock and found his first dream: to become a cowboy.
At that time, he was perfectly situated to become a successful cowboy in Brazil, but he could never learn how to lasso. And after two years trying to make a life with cattle, he had to give up.
His next dream was to become a truck driver, with a lot of hard work he was able to buy his own truck but could never make a living out of it, and that is when he moved to mining in the North of Brazil.
Being a miner also didn't work out for him, and that was the hardest time of his life. He was living in a tent, and hunger was a problem he faced almost everyday. He found two ways to make money: In the morning, he would fill up a box with vegetables he planted in his backyard, put it in the back of his bike and sell them in the city. At lunch, he would ride all the way back to his house, get another box full of pastries cooked by his wife and ride back to the city to sell the snacks to the hungry miners.
He did that for over 3 years, before a huge storm wiped out his garden and destroyed his house. With no money to rebuild and having recently lost a friend killed in a fight, he decided that it was time to move on from his career in mining and moved back to Mato Grosso.
"And at that time, near 1992, I ended up in a farm, where I would operate some machines. That farm used to hire an ag aviation company to do aerial application in their land. DGPS systems didn't exist yet, so they needed someone to be a flagman for the planes to land. And that is when I started working with ag aviation"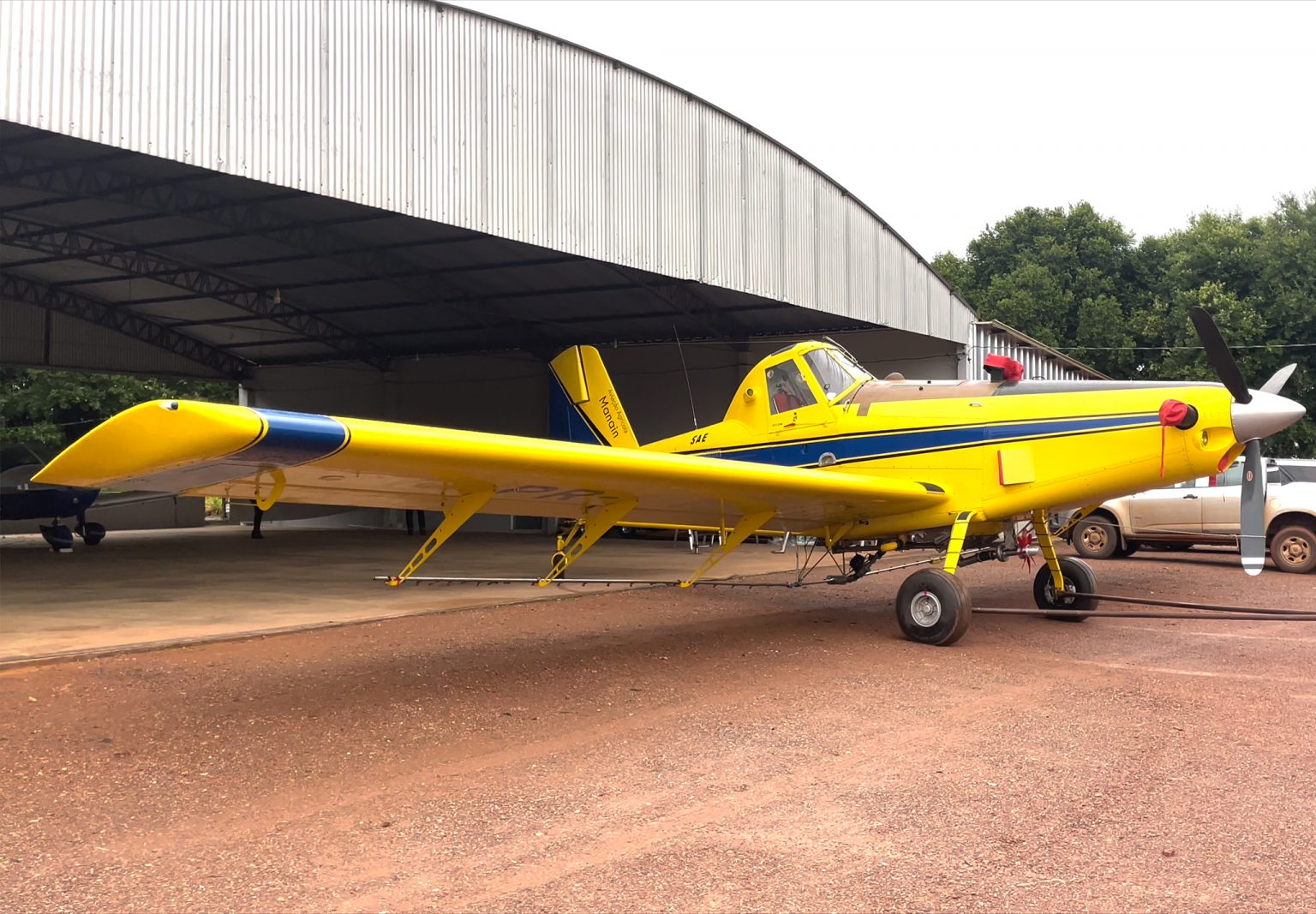 Mr. Carlos dreamed of having an Air Tractor for a long time.

He owns 3 now, and 2 more are arriving in 2022.
Carlos ended up enjoying aviation so much that he was invited to become an assistant for the mechanics. He found his vocation and learned a lot about aircrafts during his time as a mechanic, so much he started to work as a technician. And after paying his dues as a mechanic assistant and a technician, he finally found an opportunity to have his own airplane.
"In 1996, there was an opportunity for me to buy an ultralight, manufactured in Rio de Janeiro. So I bought 50% along with one of the owners of the company I was working for, with the condition that he would teach me how to fly. He needed a new pilot, so he was in."
"I had my first training on Wednesday, for 15 minutes. On Thursday, 15 more minutes of practice. Friday, 15 more minutes carrying a barrel of water. And that was it, 45 minutes of practice and I was flying solo for the first time. At that moment I realized that flying was my gift. I had spent my whole life trying to be a cowboy, a truck driver, a miner, and nothing worked out. And with only 45 minutes of practice I was already flying an airplane by myself."
He started practicing a lot and before long was doing sightseeing flights around the city. After a while. a friend of his bought him a book about piloting to help him study. He didn't have much education, having finished only the 5th grade, but he took that book, became a pilot and never looked back.
After some time flying his ultralight, he bought another one from the city of Uberlândia, equipped with a Volkswagen Beetle engine and started doing aerial application in Mato Grosso. 
"I started to apply in a city near Sorriso, called Ipiranga do Norte. Small areas, around 80 to 100 hectares. That's how I started."
With the Ultralight, despite some forced landings due to engine failures, Carlos was able to make enough money to buy him his first car and to pay for his Private Pilot course and certification. This allowed him to start flying for the companies in the area, spraying the cotton farms.
In 2013, after a few years working as a private operator, Carlos finally started his own company. He had a dream, and that dream was to buy himself an Air Tractor:
"Air Tractor airplanes are the Ferraris of Ag Aviation, and after having 14 forced landings, I really wanted to have a reliable airplane for my company, and this is the best airplane manufactured on Earth"
"Even before I started my own company, Air Tractor dealers would come visit me to try to sell me an aircraft, but my financial situation at the time didn't allow me to, even though I really wanted one. At one point, Mr. John (an Air Tractor dealer in Brazil) gave me a beautiful poster as a gift, and I hung it on the hangar's wall."
"Every morning I looked at that poster, looked at the hangar, and prayed to God that one day I would have one of those in my hangar."
He did more than that. After selling one of the smaller aircrafts, he was able to give the down payment on his first Air Tractor.
He owns 3 now, and 2 more are arriving in 2022.
The success of the company speaks for itself, but Carlos is an example of the resilience and dedication of everyone involved in Ag Aviation. Coming from a difficult background and facing many challenges along the way, he now owns one of the best companies in Brazil, operating in the states of Mato Grosso and Roraima.
Felipe Fogaça has a degree in Law and an MBA in Sales and Negotiation. He is currently responsible for the administrative duties of Aero Fleet One.
International team members came together to work on business development in Brazil.
Attending is part of our efforts to stay familiar with the most recent...
International team members came together to work on business development in Brazil.
Attending is part of our efforts to stay familiar with the most recent trends and developments in aviation technology.